"On the Road Again"

Are you tired of waiting in long lines at the airport? Are you empty nesters looking for some time away from the house? Come and take a tour across America with "On the Road Again." View breathtaking scenery and visit exciting destinations such as Las Vegas and the Grand Canyon, Branson, San Antonio and many more. Meet new friends or invite old friends and just sit back, relax, have fun and let us take care of the driving and planning. "On the Road Again" is the division of Travel League that specializes in group bus tours. Its focus is to travel to fun and exciting locations around the United States via motor coach. Whether you join a group or gather your own we are happy to plan your tour. Go "On the Road Again" with Travel League for your next vacation stop.

• Reservation Form
• Credit Card Authorization Form
• "On The Road Again" FAQs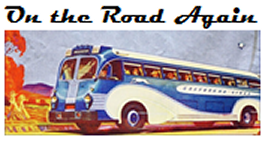 6455 N Union Blvd Ste 100A
Come by and learn about our exciting 2016 bus tours!
Jodi (719) 597-0004 x105

View all our specials on our Group Trips site.